In the fight against gambling addiction, education and awareness are essential. Responsible gambling tools act as barriers, stopping impulsive gambling. Therapy, with coping strategies, breaks the cycle of addiction. Support networks and financial counseling empower recovery. Together, they provide hope and guide individuals toward a stronger future.
Unraveling the Mind of a Gambler
Gambling, offering excitement and the chance to win big, appeals to people from diverse backgrounds. However, beneath its surface lies a complex web of psychological factors driving individuals to gamble, leading to both positive and negative outcomes. This exploration delves into the intricate psychology of gambling habits, its impact on individuals and communities, and effective strategies for dealing with gambling addiction.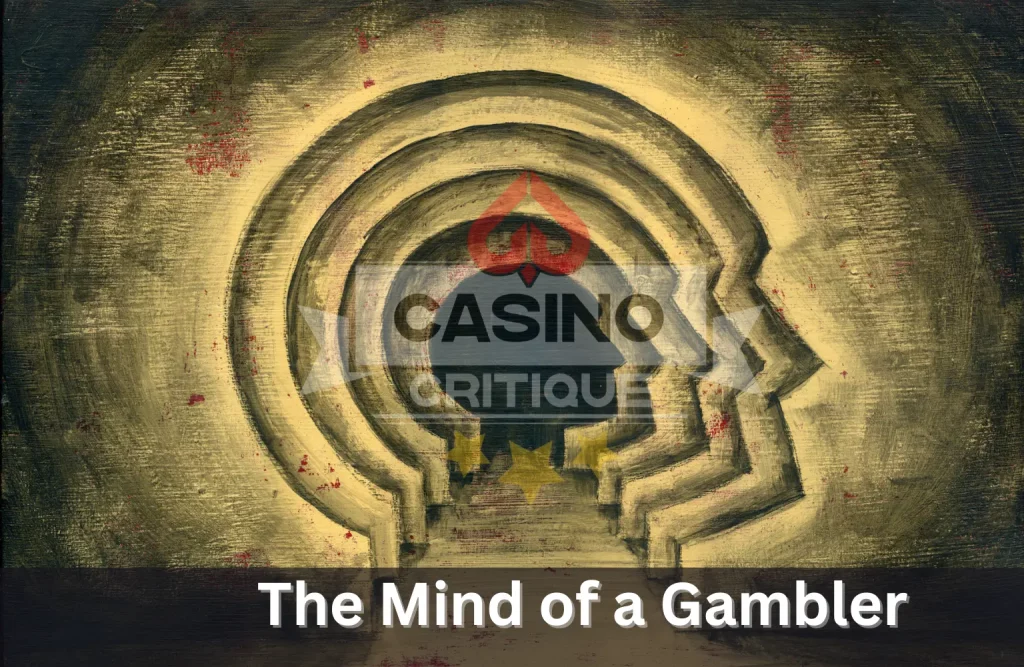 Psychology of Gambling Behavior
Dopamine Release and Pleasure:
Gambling releases dopamine, creating a pleasurable feeling that makes people want to keep gambling uncontrollably. Dopamine, a brain chemical linked to pleasure, plays a key role in attracting people to gambling. When someone gambles and wins, even a little, their brain releases dopamine, making them feel good. This chemical reaction creates a euphoric sensation, encouraging them to gamble again.
Dopamine not only makes winning feel good but also makes people look forward to the possibility of winning, making gambling very exciting. This response is natural in the human brain, and designed to encourage good behaviors. However, in gambling, this same feeling can make people bet again and again, trying to feel the pleasure of winning, even if it means losing money.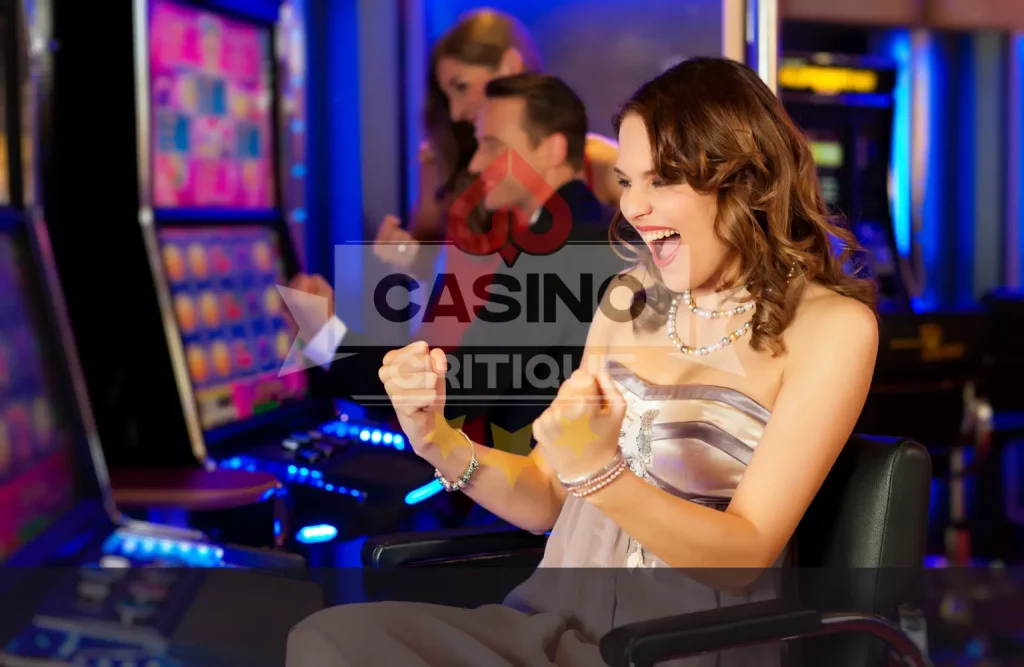 Knowing that dopamine causes pleasure helps us understand why gambling is addictive. This shows how important it is to gamble responsibly and get help to stop gambling too much.
Escapism and Emotional Regulation:
The psychology of gambling plays a central role in the intricate web of motivations behind this activity. For many people, gambling is a way to escape life's stress, providing a temporary break and emotional relief. People gamble to escape and control their emotions, and the psychology of escapism is particularly pronounced in this context. For many, it offers a brief respite from life's challenges and the pressures they face every day. Casinos' lively environment and online platforms' immersive experiences act as safe havens, letting gamblers briefly escape real-life problems. This escapism offers a brief sense of peace, allowing individuals to momentarily forget their worries and fears.
Moreover, the psychology of gambling is intertwined with the management of emotions. Many individuals turn to gambling to cope with feelings such as stress, sadness, or loneliness. The mix of emotions gamblers experience, including excitement, the chance of winning, and feeling in control, serves as a means to regulate their emotions, even if it's just for a while. When people are feeling down, the possibility of a significant win becomes more than just about money—it represents hope and a way to solve their problems.
However, it's essential to acknowledge that this escape is brief, and the emotional rollercoaster of gambling can exacerbate the mental anguish that initially led people to gamble. This creates a cycle that's challenging to break without help. Recognizing how escapism and emotional regulation work together sheds light on the psychological underpinnings of gambling addiction. It underscores the need for personalized therapies and responsible gambling efforts to address these issues effectively.
Cognitive Biases:
Biases like the gambler's fallacy and the illusion of control mess up logical thinking. They make people believe they can win against all odds, even when it's not true.
Cognitive biases can greatly affect how a gambler makes decisions, often leading to irrational thoughts and actions. One common bias is the Gambler's Fallacy, where people think that past results can predict what will happen in the future, even in games of luck. For instance, if a gambler keeps losing, they might believe that they are bound to win soon and keep betting, even though the game is entirely random.
Another common bias is the Illusion of Control. This happens when gamblers think they can control the outcome of games more than they really can. They might believe that their skills, casino strategies, or lucky objects can make them more likely to win, even in games that are purely based on chance. These biases make gamblers see things in a way that isn't quite accurate. It makes them feel more confident and keeps them betting more.
To understand why gamblers often make illogical choices and keep gambling even when they keep losing, it's important to know about the psychology of gambling. We need to deal with these biases by using cognitive behavioral therapy and education. This can help people stop thinking in ways that don't make sense and encourage them to gamble safely.
Social Validation:
Getting support and encouragement from friends and others can make gambling seem normal, and this makes people more likely to join in.
A psychological thing called social validation really affects how people gamble. When others say nice things and cheer them on, it makes people feel better about themselves and want to gamble more. When they do well, and people praise them, it makes them want to keep gambling.
When gambling is seen as okay in society, it can make people feel like they fit in, and this can make them want to gamble. Sometimes, the pressure to compete can also push people into gambling, even when it doesn't make sense.
It's important to understand these things so we can promote responsible gambling and help people make their own choices based on good information.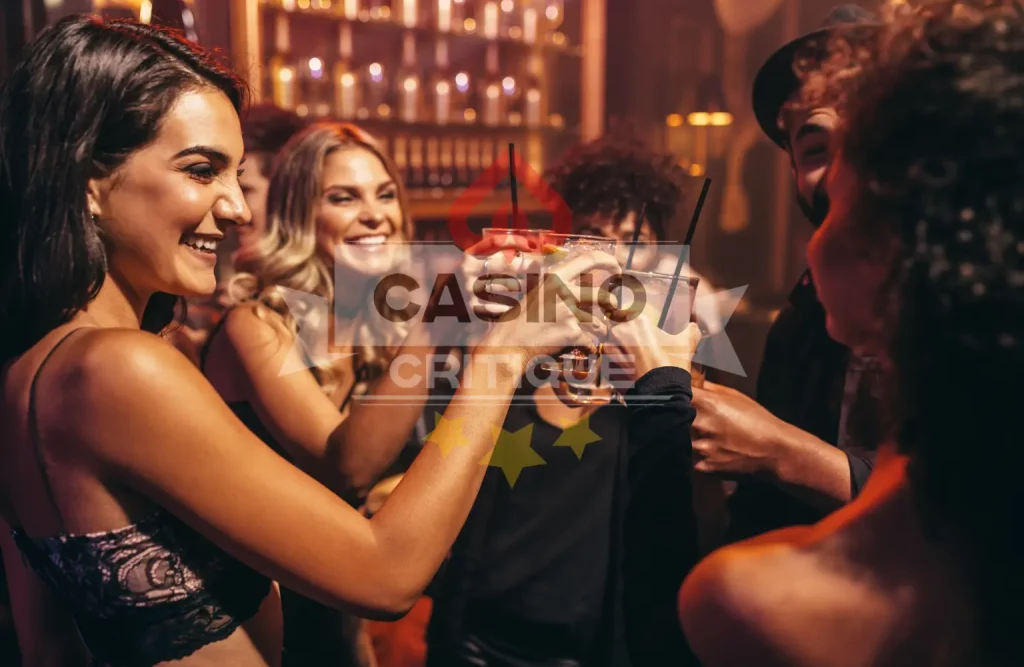 Impacts of Gambling
Gambling can impact people and communities in good and bad ways. To make things better, we need to understand the psychology of gambling and find ways to get the most good while causing the least harm.
Positive Impacts
Entertainment and Socialization: Gambling can be enjoyable and social, bringing friends and family together for fun and companionship.
Economic Contributions: The gambling industry gives money, which helps the economy by generating taxes and creating jobs.
Charitable Contributions: A lot of gambling places support charities and do things for the community.
Negative Impacts
Financial Strain: Gambling addiction often causes serious money problems. People end up in debt, use up their savings, and borrow money to feed their addiction.
Psychological Distress: Gambling that's not under control can make a person feel anxious, sad, and even think about suicide. This makes their emotional problems even worse.
Disrupted Relationships: When people lie about money, it damages their relationships with each other and can even lead to divorce, arguments at home, and feeling isolated from others.
Effective Solutions for Gambling Addiction
Education and Awareness:
Educational programs and telling the public about the problems of gambling are very important. These projects help people notice signs of addiction, understand how it affects the mind, and encourage them to get help when needed. By raising awareness, society can reduce the shame linked to gambling addiction and promote understanding and kindness.
Responsible Gambling Tools:
We should have rules for responsible gambling on gaming websites. These rules include limits on how much you can spend, reminders to take breaks and check your spending, and the option to stop yourself from gambling when you need to. These measures help prevent impulsive and excessive gambling and keep people safe during tough times.
Therapeutic Interventions:

Therapies like Cognitive Behavioral Therapy (CBT) work really well in treating gambling addiction. CBT delves into the psychology of gambling, assisting individuals in recognizing and transforming their harmful gambling-related thoughts and actions. It equips them with effective tools to manage stress, resolve problems, and build resistance against the powerful urge to gamble. Furthermore, supportive treatment complements CBT by offering individuals a safe and nurturing space to explore the underlying reasons for their addiction, such as emotional triggers or past trauma. This combined approach is instrumental in fostering their recovery journey.
Support Networks:
People with gambling addiction can get help from groups like Gamblers Anonymous. These groups provide a place for people to talk about their experiences, support each other, and help everyone stay responsible. When you connect with others who've been through the same problems, it makes you feel like you're part of a community and reduces the loneliness that many addicts feel. These support networks also offer helpful resources and information about getting professional help, so you have a complete support system.
Financial Counseling and Management:
Getting financial counseling is really important if you're dealing with the money problems caused by gambling addiction. Financial counselors can help you make plans to pay off debts, talk to the people you owe money to, and fix your credit. By fixing your money situation, you can take back control and reduce the stress that might lead to more gambling. Learning how to manage your money is crucial for staying on track and keeping stable in the long run.
Family and Social Support:
Having family and close friends involved in your recovery can really boost your chances of success. When your family talks openly, it helps everyone understand and support you better. They can learn about the addiction, go to therapy sessions with you, and give you emotional support. Having a strong social support system is important for sticking to healthy habits and creating a stable environment for your recovery. When loved ones encourage you, it can make you feel more confident and motivated to stick to your recovery plans.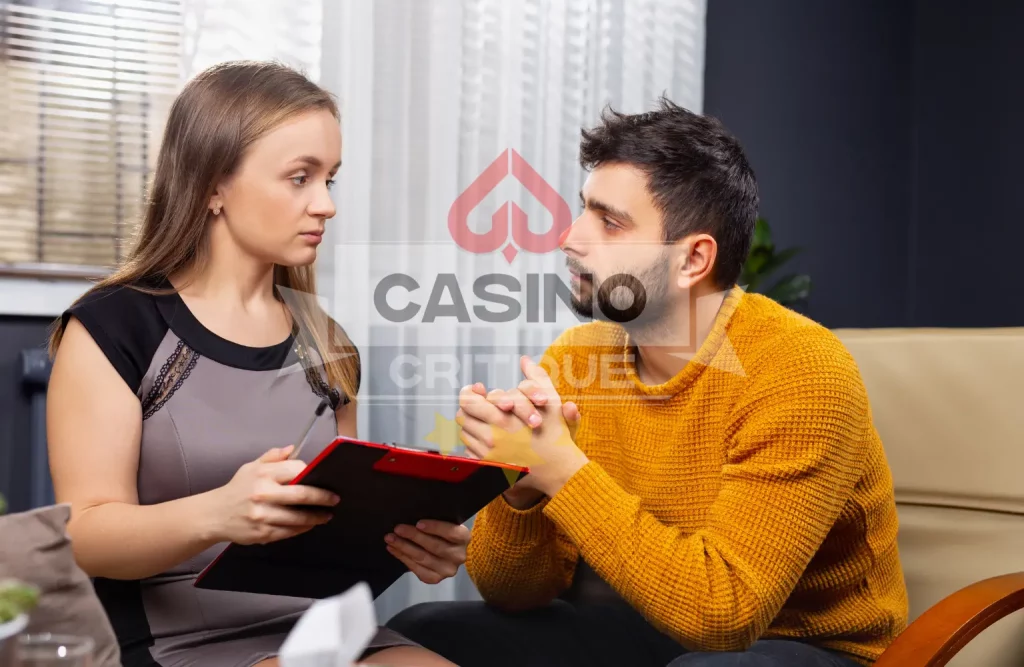 When we use these strategies and make interventions that fit each person's needs, we can create a strong and helpful system for those who are addicted to gambling. Combining education, counseling, social support, and fair gambling practices can really improve the chances of recovery and help people affected by gambling problems rebuild their lives.
Gamble Responsibly, Casino Critique top rated Crypto Casinos
To stop gambling problems and help people, we need to understand how psychology of gambling works. By recognizing things like the pleasure from dopamine, the desire to escape, thinking problems, and social pressure, society can come up with specific ways to fight gambling addiction. It's important to understand the science behind gambling addiction.
Even though we see some good things about gambling, like fun and money for the economy, we also need to talk about the really bad stuff it can cause, like money problems, emotional pain, and ruined relationships. People can get better from gambling addiction by learning, following responsible gambling rules, getting therapy, and having support from friends and family. Remember to play responsibly.
We can change how we think about gambling by looking at the bigger picture and making sure it's a fun activity that doesn't harm people or communities.
Stay Connected!
Enjoy the access of exclusive promotions, including free spins and bonuses!