Discover the fascinating history and technological evolution of slot machines, starting from the old mechanical one-armed bandits to the modern digital games you see in today's casinos. Learn how these iconic slot machines transformed the gaming industry and continue to draw players from around the world. Explore their initial rise to popularity and the exciting new features that continue to engage players. This detailed exploration of the evolution of slot machines promises to be an enjoyable and educational read for both gaming enthusiasts and history aficionados.
The Evolution of Slot Machines: From One-Armed Bandits to Digital Delights
Slot machines have been around for over a hundred years. You can see them in nearly every casino and places where people bet money. The history of these machines is fascinating, going from the old, bulky mechanical "one-armed bandits" to the modern, stylish digital wonders. It's a journey that involves psychology, entertainment, and new technology.
As a kind of casino slot machine, this article will explore their history and reveal how they've evolved, moving from basic mechanical gadgets to intricate digital gaming systems. This exploration of slot machines' past, present, and future aims to be engaging and informative for everyone, from casual enthusiasts to business folks curious about the gaming industry.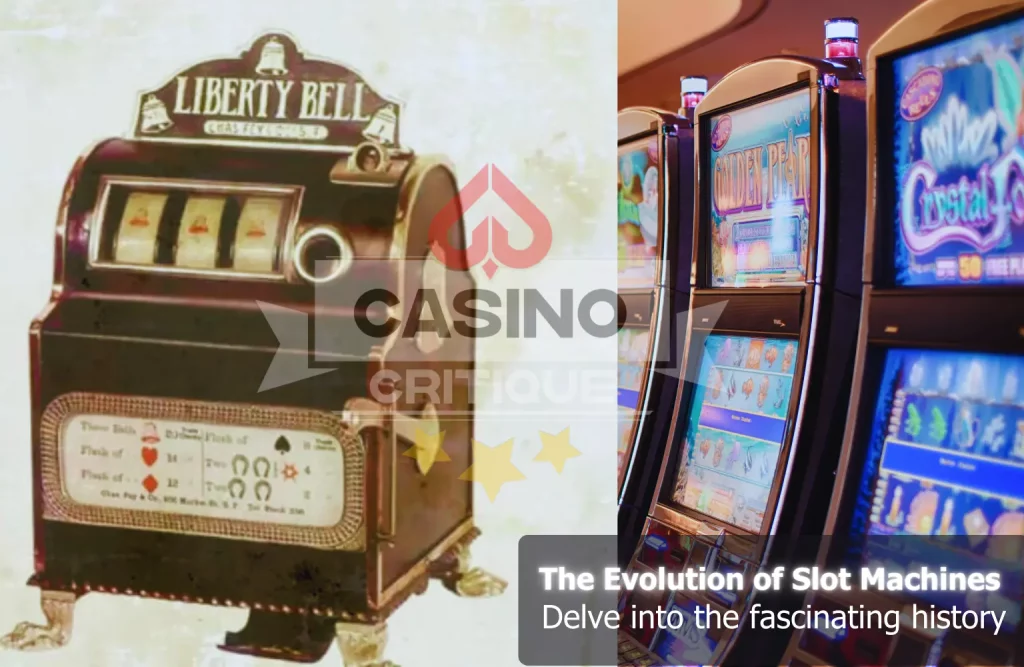 The Birth of the One-Armed Bandit
The First Slot Machine: Liberty Bell
The story of today's slot machines began in the late 1800s with Charles Fey's creation, the Liberty Bell. It was an old-style spinning game with three reels. This famous coin-operated machine had five symbols, like the Liberty Bell, horseshoes, playing cards, and more. You could win prizes with different combinations, and it became really popular in bars and saloons because it was so simple to play.
The Liberty Bell's popularity led to the making of many slot machines. They got the nickname "one-armed bandit" because of the side lever players used to spin the reels. These early machines were built from metal and used springs, gears, and handles. Typically, players who won received cash or tokens as their prize.
Mechanical Marvels: Early Slot Machine Designs
As slot machines gained popularity, the companies making them began to experiment with new themes and looks. They went from using fruit symbols to different designs, making these machines both visually different and changing how they worked. A famous example is the "Mills Liberty Bell" machine, which improved upon Fey's original idea by adding a coin escalator to make paying out winnings simpler.
In the early 1900s, the first machines with more than one spinning reel appeared. Some even had up to 20 reels! These machines had more complex ways of paying out winnings, and they introduced the idea of progressive jackpots. This meant that a small part of each bet went into a prize pool, and the jackpot kept getting bigger.
The Role of Technology
Electrical Advancements: Electromechanical Slot Machines
In the middle of the 20th century, science improved slot machines a lot. Some machines, like Bally's "Money Honey," started using electricity to do many of the mechanical jobs. These machines introduced features like hopper payouts, which allowed for larger winnings and games with higher bet amounts.
Electromechanical slots also introduced "Wild" symbols. These symbols could replace other symbols to help create winning combinations. These improvements made the games more exciting and enjoyable, making the machines even more attractive to players.
The First Video Slots: A Digital Revolution
Slot machines underwent a major transformation in the late 20th century when computers became the brains behind them. With microprocessors and video screens, games could be designed in more intricate ways. In the 1970s, the first video slot machine called "Fortune Coin" was introduced. It featured a 19-inch Sony Trinitron color screen, a big departure from the older machines that relied on physical spinning reels.
Video slots opened up new possibilities for game creators. They could use a wider variety of symbols, paylines, and bonus features. They also added extra rounds on a second screen, animated graphics, and ways to interact with the game, making it more enjoyable.
The Psychology of Slot Machines
The Element of Chance: Random Number Generators (RNGs)
Modern slot machines come with flashy lights and captivating themes, but they also feature something crucial: randomness. Random Number Generators (RNGs) determine the outcomes of each spin. These mathematical formulas ensure that each spin is independent and purely reliant on luck, ensuring that every player has an equal opportunity to win.
Random Number Generators (RNGs) do two important things: they make sure games are fair, and they add an element of surprise that keeps players engaged. A significant part of playing slot machines is the excitement of taking "just one more spin" in the hope of hitting a big prize.
Themes and Storytelling: Immersive Gameplay
Today's slot machines often use captivating themes and story elements to keep people engaged. Themes could be things like a slot game taking place in a magical world, inspired by a famous movie series, or centered around a beloved character. These themes make the experience about more than just gambling; they make it enjoyable and immersive.
Themes and stories are used to connect with players on an emotional level, making the game more enjoyable and unforgettable. By including bonus rounds, free spins, and engaging features, the game becomes even more entertaining to play.
From Lever to Touchscreen
Online Slot Machines: The Digital Frontier
Slot machines made their way into the digital world as the internet became popular. Online casinos began offering a variety of slot games that people could play from the comfort of their homes. The fundamental rules of these online slots remained the same as those in real-life slot machines, but they introduced new features like progressive jackpots that players could win and share.
Online slots also introduced a wider variety of themes and gameplay styles to attract a broader audience. This meant people could play slots with 3D graphics, visuals resembling movies, and intricate stories.
Mobile Gaming: It's in Your Pocket
The arrival of smartphones brought another significant change to the evolution of slot machines. Mobile slot apps allowed players to carry their favorite games wherever they went, enabling them to play while on the move. Another improvement was the touch screen on smartphones and computers, which made spinning the reels even simpler.
Slot games on mobile devices are designed to function smoothly and appear appealing on smaller screens. This accessibility is making slot machines increasingly popular among diverse groups of people because they are convenient for many to access.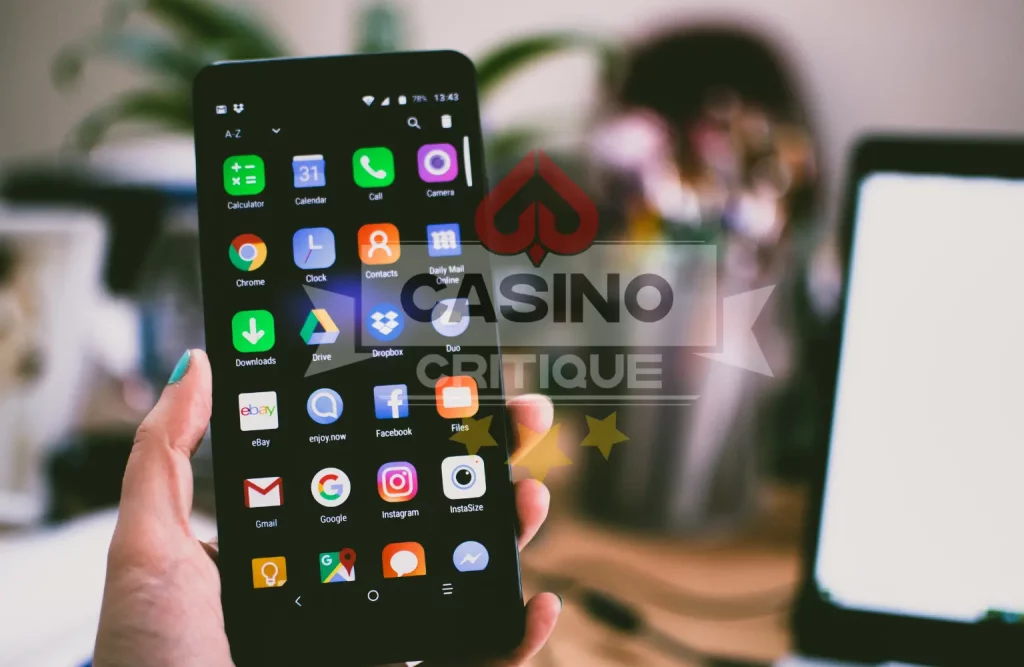 Regulation and Fair Play
Regulatory Measures: Ensuring Fairness and Security
As slot machines gained popularity, rules were established to safeguard players and ensure fair play. In many regions, gaming authorities have imposed stringent regulations to oversee their operation. These rules ensure that games are fair, payout rates are generous, and player safety is prioritized.
Regulations are in place to prevent fraud and money laundering. This means that casinos and other gambling establishments must have robust security measures and adhere to strict rules.
Responsible Gambling: Addressing Addiction
In addition to rules, the gaming industry has also tackled the issue of gambling addiction, recognizing the importance of understanding the psychology of gambling. Some people find it hard to quit playing slot machines because of the enticing lights and sounds. Casinos and game makers have established responsible gaming programs. These programs offer options like self-exclusion, age verification, and promoting responsible gambling.
There are also educational campaigns and tools to help people recognize signs of gambling addiction and seek assistance when necessary.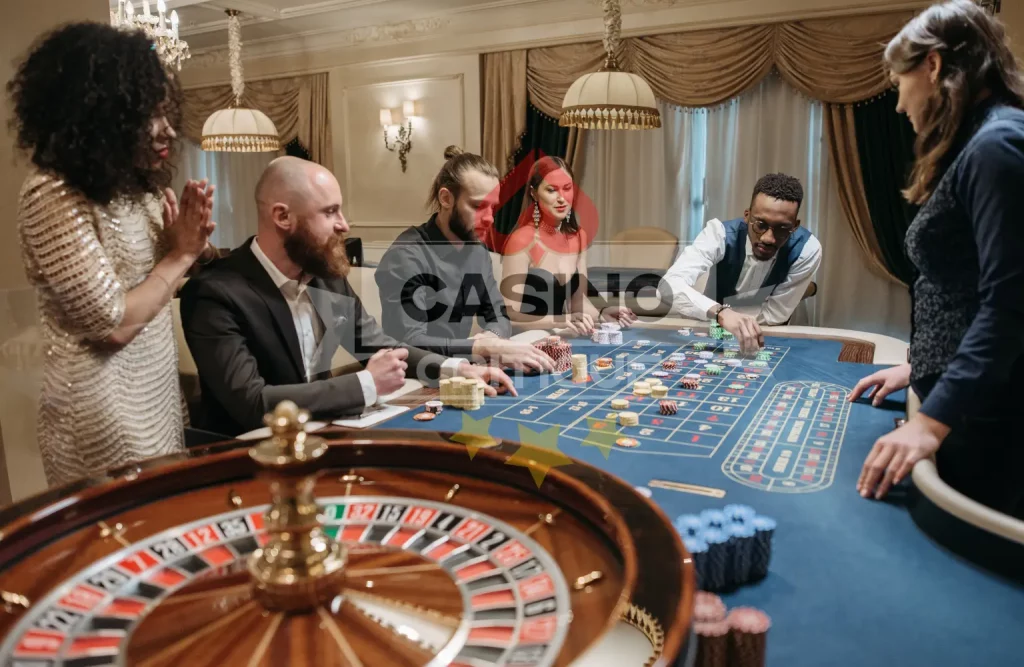 The Future of Slot Machines
Virtual Reality (VR) and Augmented Reality (AR)
The future of slot machines seems to be getting even more exciting with Virtual Reality (VR) and Augmented Reality (AR). VR slots allow players to step into a virtual casino, while AR slots blend digital games with real-life experiences. These technologies have the potential to revolutionize the way players experience excitement, making games more interactive and captivating.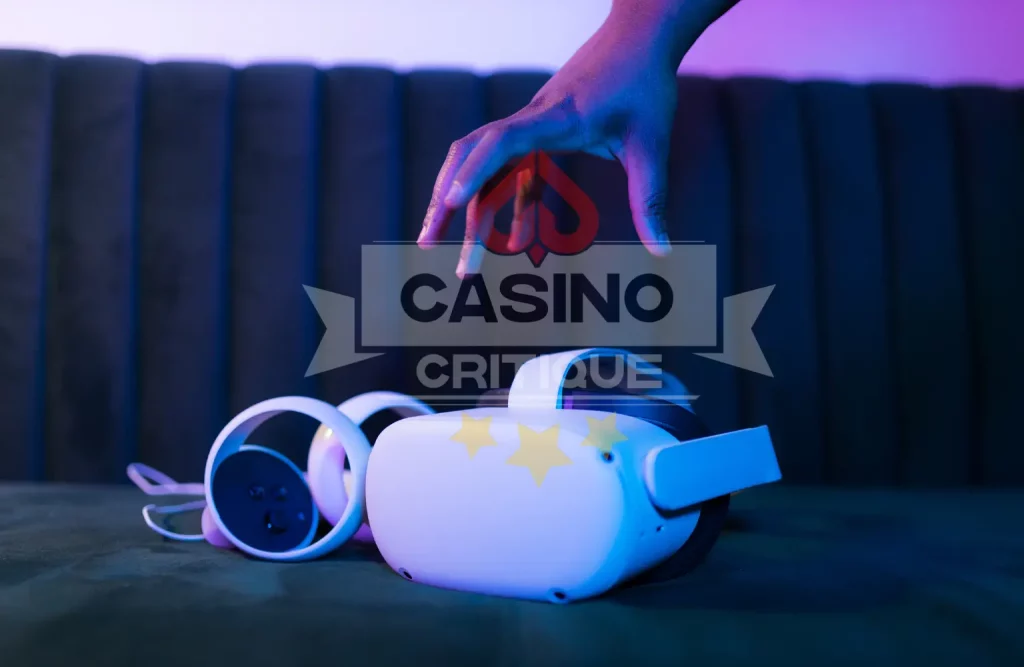 Blockchain and Cryptocurrency: Changing the Landscape
Cryptocurrencies and blockchain technology are starting to be used in slot machines. Some online casinos now offer slots that use cryptocurrency. This provides players with better security, privacy, and quicker transactions. Blockchain technology can also guarantee that game outcomes are transparent and fair, which boosts player confidence even further.
Slots to check out from top rated Crypto Casinos
The Enduring Allure
From their humble mechanical origins to their modern digital and high-tech versions, slot machines demonstrate the creativity of people. They are also enjoyable to play and provide an opportunity to win. These machines have not only captured the hearts and minds of players worldwide but have also played a significant role in the expansion and innovation of the gaming industry.
When we consider the future, the attraction of the industry will keep evolving due to new technologies, changing gaming habits, and a dedication to responsible gaming. There are many fascinating aspects to explore regarding the history and evolution of slot machines, whether you're a casual player seeking entertainment or a businessperson trying to understand the gaming industry.
Stay Connected!
Enjoy the access of exclusive promotions, including free spins and bonuses!